2010 Ride to Papa Jack's Grave by Wango Tango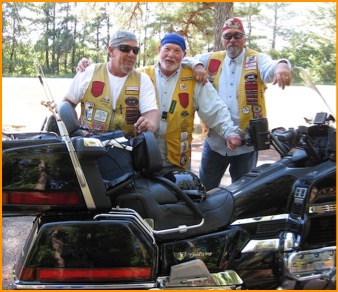 Last year, after Big "D"s Lifer Appreciation Party Raoul, Super Pickle, Eyeball and I struck out for Arkansas. We were following Raoul, and not really knowing where we were going. It was a wonderful "destination unknown" ride through the Ouachita, Boston and Ozark Mountains.

On the second day of our journey we found ourselves in the small town of Westville, Oklahoma. Just outside the town, we turned down a little country road and pulled up in front of a farmhouse for sale. Eyeball and I followed Raoul and Super Pickle into the property. We watched as they searched through the tall grass in an open field south of the farmhouse. Soon Eyeball and I were signaled to come over to a spot where they were standing.

They pulled the grass back and there was Papa Jack and Jaynie's headstone with the Gypsy logo and the inscription "Together for Eternity" on it. Raoul and Super Pickle had been to the gravesite before and probably knew what to expect, but Eyeball and I hadn't and I was moved, even awestruck, by this sight. Papa Jack was the man who established the Gypsy MC in Texas, and the club as we now know it today. I had no idea he and his wife Jaynie were buried in Oklahoma, actually I had no idea where they were buried. We cleared the weeds from the gravesite with our hands and took some pictures. Super Pickle told us that Papa Jack and Jaynie had lived in the farmhouse on the property, and Papa Jack had suffered a fatal heart attack while tending to his horse in the barn. His wife Jaynie had passed away in 2001, and they were both buried here, with their infant son and Jack's dog Pistol Pete. Their home was left vacant and had burned. It was torn down in 2007.

Although the new farmhouse and property are for sale, the gravesite is considered a family cemetery and can not be moved. As we stood there in the field, Raoul and Super Pickle shared their memories of coming here before, and told Eyeball and I that the 2000 Gypsy Mandatory had also been held on the farm. It was a hot day and as we were preparing to leave, I remembered that I knew a lady that lived in Arkansas. She had told me to contact her if I ever made it up here.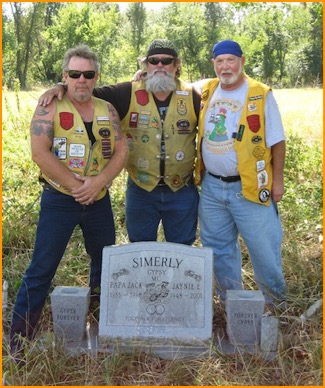 Her name was Gwen and we had been friends for a few years on a biker social website. I called her and she was happy to hear from me and began giving me directions to her house. I asked her to hold on a second and handed the phone to Raoul, who had grown up in the Ozarks and would be more familiar with the area. After a brief conversation with Gwen, Raoul hung up the phone and handed it to me with a puzzled look on his face and asked "How do you know this woman?" I told Raoul "From a biker website and I wasn't sure exactly where she lived in Arkansas, just thought I'd give her a call". Raoul told me with a laugh "She lives about fifteen miles from here and is going to meet us at that bar we passed by five miles back."

It was a pleasant surprise to travel all day in unknown territory and then meet someone local that knew you. The bar where we were to meet Gwen was a typical biker bar with a friendly wait staff, cold beer and much welcomed air conditioning. Gwen arrived and met us as scheduled. She was an attractive brunette with a big smile who took great delight in knowing we had ridden our bikes all the way from Texas. We followed Gwen back to her house and dropped off her car and she climbed on my bike with me. We rode to nearby Fayetteville, Arkansas, a college town and home to the University of Arkansas. We were going to visit Dickson Street, which is the major location for nightlife in the city, but first Raoul took us down a very steep road in a local neighborhood to visit an old buddy of his. His name was Monte and it had been many years since they had seen each other.

As the two talked and reminisced about old times, Gwen realized that she too knew Monte and had been a good friend of Monte's wife back in the seventies. The chance encounter with a woman I had only known from a website, had now developed into a reunion of three friends who had shared a past in this college town of Fayetteville.
It was entertaining for Super Pickle, Eyeball, and I to watch these three people laugh and recall the "Glory Days" of house parties and good times. Once the three were pleasantly caught up, we said our goodbyes to Monte and rode to Dickson Street to sample the local entertainment and share a good meal. Dickson Street is a beautiful area, with many clubs and restaurants, and we enjoyed a great meal of Mexican food at a local restaurant.

We had a great party at Gwen's house later that evening. She has a place in the country with a huge fenced-in back yard that includes a large storage shed that's been converted to an entertainment/party room. As we all sat on Gwen's back porch sipping a beer, Gwen walked inside the party room and played some music. It was a vintage Allman Brothers tune "Blue Sky", which seemed to fit the atmosphere of our trip to the Ozarks. As we all listened to the tune I noticed something different about the song that I haven't heard in many years. It was the familiar crackling of a needle playing on a vinyl record. It was definitely an old school moment remembering how music once sounded before CD's.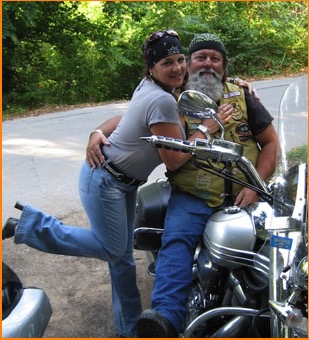 I may have partied a little too hard, and as Eyeball said "I did a "Blackhawk Down" in Gwen's backyard. It was actually a compilation of the day's heat, a good meal, followed by beer, and some tequila shots. As I lay there in the yard, thinking about the day's events looking up at the stars, I began to have a conversation - or more like a respectful salutation - with Papa Jack, a man I never met, but felt like I had known from the stories I heard about him. I remarked how beautiful Arkansas and Oklahoma were, and what an honor it was to visit his and Jaynie's gravesite. I was buzzed, but I made a promise that I would ride back next year with my fellow Gypsys. Maybe this maiden run we were on would prompt a Gypsy tradition of all Gypsys visiting Westville, Oklahoma, at least once to remember the founder of the Gypsy MC. I dozed off after that and slept peacefully on the soft grass under those beautiful stars until I woke up from the warmth of the morning sun.

We had told Gwen our story about our pilgrimage to Papa Jack's gravesite and the close proximity of it to her house over dinner the night before. It really touched her and she volunteered to go over to the gravesite and clean it up. We thanked her and thought that her offer could work out to be a good idea. That morning we bid our new friend Gwen goodbye and rode to Eureka Springs, a beautiful Victorian town nestled higher in the Ozark mountains, surrounded by twisting, winding roads which were perfect for motorcycle riding.

We had breakfast there in the Crescent Hotel which was built in 1886 and had been a great highlight of our trip. The day had begun nicely, and we were in high spirits as we rode from Eureka Springs to Harrison. The road to Harrison was another great ride through the Ozarks. My Yamaha 1900cc v-twin Stratoliner ran great as it rumbled through the mountains with its big bore top end. Unfortunately, the Stratoliner uses more gas than the Harleys and Super Pickle's Gold Wing. I was soon to meet the "Gas Nazi", aka Raoul, and his precise calculations of how far I could actually go on a tank of gas.

In Harrison, we stayed in another cool hotel called the 1929 Hotel Seville, a biker friendly hotel near some of Arkansas best motorcycle rides. This hotel has its own restaurant and bar, and reminded me of Spain, with it's arches, pillars, and balconies inside the hotel's lobby area. The front desk still had the old wooden "pigeon box" mail board for the hotel's rooms. As its names states, the Seville was built in the 1920's, and I'm sure a few bootleg liquor parties took place here in this "dry" county.

As we settled ourselves into our rooms and discussed what motorcycle routes we were going to take, Tropical Storm Hermine rolled into Arkansas, flooding the entire Harrison area, washing out roads, and leaving us stranded in the hotel for three days. We entertained ourselves by visiting the local town square and hanging out in the hotel bar. We also had a party one night, gathering in one room and watching the season premiere of "Sons of Anarchy". Followed by an intense conversation about the authenticity and the devious methods employed by the "Sons", as opposed to what real life 1%er MC's would do.

The rain was relentless with no sign of it slacking up. There were numerous flash flood warnings on television. Eyeball's and my vacation time had ended and we needed to go back to Texas, regardless of the stormy weather. We went to a local motorcycle shop and bought some insulated "Frog Togs" rain suits, and bid our fellow Gypsys goodbye. Super Pickle was headed out too, but was taking a different route back to Dallas.

The trip back to Texas started out with us riding in a light drizzling rain, but further down the road it began to rain harder, causing my glasses to fog up, even though I had wiped them down with anti-fog. I eventually had to pull my glasses down my nose, and look over the top of them to see. The rain was stinging my eyes as I rode through the twisting hills headed to Little Rock. The ride was truly a test of wits and an adrenalin rush, taking blind curves in the pouring rain with 18 wheelers on your tail. Eyeball had started out in front of me on the trip back, and soon vanished in the hazy rain. I thought that I had lost him and tried my best to catch up. I soon gave up the chase and pulled over for gas. As I was filling my tank, Eyeball rolled up behind me. Being a bit startled, I asked him "How did I get in front of you?" Eyeball being Eyeball, would always have these great, smart ass reasons for the phenomena. I tried to stop asking him why, as the scenario repeated itself a few more times in the night, with his reasoning becoming more bizarre than the last one. Comic relief on the road can sometimes be as important as "Five Hour" energy drinks.

It was now close to midnight, and we had left Harrison around 4:30 pm that day. It was a Thursday night, and when we reached Hwy 59 in Texas, it was empty southbound. Eyeball and I rode side by side down the highway at pirate speed, glad to be out of the rain and closer to home. Eyeball parted off at Livingston and I reached my Houston home around 1:30 am.

I was glad to know everyone had made their way home safely from our trip. It had been a great time with my Gypsy brothers, even if it had rained on us in the last days of the journey. I later received word from Gwen that her son Cole, a Navy serviceman, had come home on leave and they had gone to Papa Jack and Jaynie's graves and cleaned it up. Gwen had also sent before and after pictures of the newly refurbished gravesite. They had done a phenomenal job and had even added some flowers.

The gravesite has been cleaned up many times through the years by Gypsys, but it was nice knowing that Gwen lived down the road and offered to clean it on a regular basis. The following October at the Calallen Halloween Run, I approached Hap and asked for his approval for Gwen to watch over and maintain the site. Hap was very grateful and gladly agreed to allow Gwen to manage upkeep on the gravesite. I'm sure through the years, with more Gypsys visiting Papa Jack's and Jaynie's resting place, it will stay nice from the Gypsys looking after it as well.

At the next Houston Gypsy MC Intl Chapter meeting, I talked about making the run to Papa Jack and Jaynie's grave in Westville, Oklahoma, and the ride through the Ozarks an annual memorial run. A vote was taken by the chapter and the Papa Jack Memorial Run and Houston Gypsy Tour was voted in. Raoul set the groundwork for the run and has done a great job with the overall planning and riding route. I hope the idea of the Papa Jack Memorial Run causes Gypsys to become more aware of their Gypsy MC roots.

I have learned so much more since I returned from the first trip to Papa Jack and Jaynie's grave. The trip has become an interesting topic of conversation, that has allowed me to meet some of the original Black Rocker Gypsys at Gypsy runs and rallies. I have met and talked to some of the early Gypsys like Ratchet, Dugger, Super Pickle, Deremer, Silver Tongue and Kingpin that knew Papa Jack, with some of them sharing memories of him and the ride to Westville, Oklahoma for his funeral.

Recently, I was pleased to see a picture posted in Face Book of Gypsy women from several Gypsy MC chapters, posing at Papa Jack and Jaynie's gravesite. They had stopped by and paid their respects while riding on the Gypsy women's "Not Lake" run that was established by Wichita Gypsy "The Flash", and has been held for three years in Oklahoma. I complimented some of the Gypsy women last week at the Surfside Rally who were in the picture. I was reminded of the Gypsy Black Rocker Tiger Red and Dyn-o-mite and wondered if they had been a mentor for some of these Gypsy women.

One of the women, a Gypsy MC Gum Bayou prospect mentioned to me how she was alone at Papa Jack's gravesite on the "Not Lake" run waiting for the others to show up. As she waited for the others, she said "She had a nice little talk with Papa Jack". It was good to know I wasn't alone in acknowledging respect verbally or in a prayer for the founder of the Gypsy Motorcycle Club.

If you never make the Papa Jack Memorial Run, then hopefully in your own time you can pay homage to Papa Jack and his wife Jaynie by visiting their farm and final resting place in Westville, Oklahoma. Being aware of your Gypsy roots is important, for in order to know where you're going you need to know where you came from as well.

GFFG,

Gypsy Wango Tango