"One Percenter Encyclopedia" a Book Review by Raoul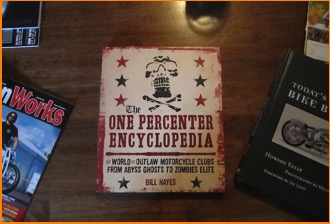 This maybe the first book review written for the Gypsy MC website. I say "maybe" because it may not turn out to be a book review. Let's backup a minute - what I'm hoping will be a book review probably won't be a traditional review. It'll still contain observations about the book and what value I gained from it as a reader. It may be more of a record of the events resulting from my contribution to Bill Hayes' new book: One Percenter Encyclopedia (OPE). However you view it, it's as much of a back story of how an offer was translated into a product as it is about a book that you might want in your library.

At first blush you might ask, why a review of the One Percenter Encyclopedia? Here's the answer - first, the book is written by Bill Hayes, who I've found to be a friend of the Gypsy Motorcycle Club. Second, I wrote the section on our club and a literature review that actually ended up in Bill's book and third, as Bill writes in his introduction, "The clubs on the list are not only the clubs that wear the diamond 1% patch. And they're not necessarily the clubs that embrace either the one percenter file heading or the outlaw persona. But they are indeed part of it." The Gypsy MC is definitely part of this culture - we not only wear a three-piece patch but we also once straddled the fence between a couple of labels that are used to describe elements of this phenomenon we know as MC. The Gypsy Motorcycle Club, even though we are a family club, is included because we're part of a larger population of all motorcycle clubs (all wearing the "MC" patch) and because we've been characterized by the author as a "pioneer" club.


This story actually began several years ago (in 2004) when author and Boozefighter Bill Hayes was writing a book called the "Original Wild Ones, Tales of the Boozefighters Motorcycle Club". Bill reached out, asking our club if we'd contribute a few words about the origin and history of the Gypsys. I got the nod to prepare our submittal and it was included in his book. [Footnote: I was very early into my study of Gypsy MC history and I now realize that what I sent Bill contained several errors I wished had not been included.] I kept in touch with Bill over the years and, in the fall of 2010, I received an email announcing his second book: "American Biker". I bought the book, read it and was impressed enough to write a review that Keith Ball published on Bikernet.com, a popular internet biker magazine. I had sent Bill a complimentary copy to review before submitting it to Bikernet. Bill was happy with the review and in the course of our conversations mentioned that he was beginning another project he'd like to discuss with me.

I met with Bill and his girlfriend, Jennifer, between Christmas and New Years 2010 near their home in Southern California. Bill explained the project which I interpreted as an aggressive effort to create an encyclopedia of motorcycle clubs around the world. He gave me a copy of the introductory chapter and told me the world was my oyster, I could write whatever I wanted. Later that day, on the six hour drive back to Phoenix I decided I'd not only write something about the Gypsy MC but I'd also suggest a review of the motorcycle club literature. Two things bothered me throughout the entire drive home: the scope of the book - 1) how could anyone identify and provide substantive information on all the MC's in the world and 2) why was this entire population of clubs being lumped together as "One Percenters"? If you're still struggling with the second concern, pay particularly close attention to the way Bill writes his introduction (and re-read the excerpt from the introduction I included above).

I decided to dredge up a story I'd already written in response to a question one of our old timers posed to me about our club in the '60's. The accepted legend of that day suggested we were once an "outlaw" club and our Texas founder, Papa Jack Simerly, decided to take the club in another direction - one that we now call "family". The legend is generally consistent with the truth but there's a lot more to how this all came about than just the bottom line. I won't spoil the story, you can read it for yourself in Bill's book. Back in the day, we did look and act a lot more like outlaws than we do now. Remember even though the the word "outlaw" and "one percenter" can be traced back to words the American Motorcycle Association used to describe the shenanigans and those who pulled them occurring at a couple of AMA Gypsy Tours in the 1940's and 1950's. The club reference as it pertains to 1% and outlaw didn't really gain momentum until the 1960's. It seems the majority of clubs that remain associated with the term "three piece patch", outlaw or one percenter were either established in the 1960's or in the case of some of the clubs established earlier, really began gaining momentum in that time frame. Anyway, I wrote the story, specifically for the old timer who asked me the question. I sent a copy to him and to our International President. I followed up a couple weeks later with the President (Hap) - he liked what I'd written and I remember telling him that I now had to find a venue to distribute the story. It was at least two years later that I realized the fit this story had with what Bill was doing with the OPE. The first part of my contribution is called "Gypsy Motorcycle Club - Outlaw or Family Club?"

I reviewed what I'd written about our transition from outlaw to family, submitted a copy to Bill and then turned my attention to reviewing the existing motorcycle club literature. When I first introduced the literature review topic to Bill he was enthusiastic and encouraged me to go forward. He cautioned me that the book was being written for Motorbooks and the editors would have a say in what would be included, but he also pledged to back me on this effort due to the obvious compliment it would have to the encyclopedia listing of the clubs. This was just the beginning of what I'd learn about working with book companies and editors. If an author accepts an assignment from a book company, i.e., he doesn't just walk through the door with a finished manuscript, he'll often get an advance on the book which means the book company gets to put as much pressure on the writer as they want - they attempt to set the schedule and edit the material that goes into the final product. This seems to happen with all struggling writers as they work their way up to New York Times best seller status. The alternative to having the book company own your soul is to write your book and then market it to one of several book companies or publish it yourself.

Throughout January and deep into February I continued developing the literature review chapter. I'd been collecting books written about motorcycle clubs since the late 1980's and had a pretty good grasp of what was available. I used internet resources and especially Amazon to add to the list - with a final tally approaching a hundred and fifty titles. Ill admit that I haven't read every book on the list but I'm convinced that I've read enough of them to separate them into categories and direct readers towards the type of book they're interested in reading. And that was our goal - I focussed on books like Hunter Thompson's 1966 classic - "Hell's Angels: A Strange and Terrible Saga" that I list in the "Autobiographical" and "Observational" categories far more than those in the "Investigative and Police Reporting" which are little more than stories about infiltration and befriend-and-betray. Entries in this category show the criminal side of motorcycle clubs but don't tell the main story of what a motorcycle club is truly all about. I completed this second chapter in late February, submitted it to Bill for his review and comments, he added some of his own observations and our contribution is included as the last chapter, one called "Bibliography & Literature Review".

I also submitted a third chapter that ended up on the cutting room floor - the editor apparently felt it wasn't suitable for the final version. I thought the chapter, that I called "1%er MCs: The Ultimate Barometer of Freedom" was a pretty good piece and Bill agreed with me - but the Motorbooks boss must have felt otherwise. This chapter described several experiences I've had with 1% clubs over the years and credits several 1%ers who influenced my view and philosophy about motorcycle clubs in general. I'll save this story, one of these days, somewhere down the road there will be a place for it. I'll dust it off, edit it a bit more and get it out there for others to enjoy.

Anyway, I completed my writing for Bill's book near the end of February - I'd hear from Bill from time to time and I helped him with a few graphics that I thought he might sprinkle here and there in the book. He'd respond to me with progress reports, mostly that the publisher was excited about what he'd seen but wanted this and that done before they'd call the effort complete and send it off to the next step of the process, i.e., arranging photos within the text, front and back cover design, title editing and other details.

In May, Bill and I both attended the National Coalition of Motorcyclists (NCOM) annual meeting in Albuquerque. He was there as a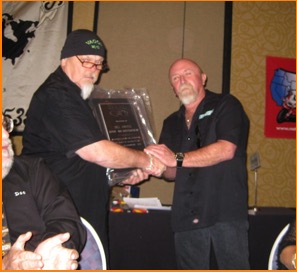 special invitee - he'd been selected to receive the "Silver Spoke" award for his contributions to MC literature, both the "Original Wild Ones" and "American Biker". We attended the sessions, tossed back a few drinks and talked about the book. He felt that the manuscript was in really good shape and provided me with a copy of what he'd submitted to the publisher. The manuscript was four hundred-fifty pages, granted, it was double spaced but it would be a significant piece when photos and other information were added.

From mid-May until August I waited patiently for news of a publication date. In July, Bill and I again crossed paths, this time at the L.A. Calendar Bike Show in Long Beach. Bill was covering the bike show for Thunderpress and I had taken a little vacation from retirement and was visiting friends in southern California. Again, we talked about the book, this time I began to recognize the struggles a writer goes through after he releases his manuscript to the publisher. Once this happens, the author seems to be pretty much out of the loop. The publisher puts editors on the manuscript and they do what they do - edit. Seems there's little negotiation between the author and the publisher from that point forward. Not to say that Bill didn't remain encouraged with how the final product would turn out but I did sense anxiety with the process and concern with what would happen to his (our) labor-of-love.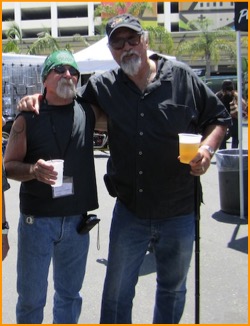 In August I got a message from Bill that he needed me to sign release forms for the text and photos I'd contributed. I signed them, got on my bike and headed to Sturgis and didn't think much about the book while I was on the road. I didn't talk to Bill for a couple months cause I knew the next move was Motorbook's. I finally got the email from Bill announcing a December release date which I confirmed by checking Amazon for pre-release ordering information. The release date got pushed back to December 31st, which I thought was odd, since the big Christmas buying binge would be over - surely Motorbooks would take advantage of an earlier release date that would boost sales. Sure enough, the release date changed back to December 1st and shortly after that date I got a call from a Kansas brother who said his copy had arrived. I immediately ordered a copy for myself and again waited patiently for Amazon to ship.

Amazon is pretty efficient and after less than a week my package arrived and I was ripping it open like it was the only Christmas present I'd get this year. I'd seen the cover graphics on the order page so the layout was no surprise but the oversize "coffee table" style of the book was really impressive. Motorbooks went all out to make this book a class production. I thumbed through the book and was in awe of the images and graphics that had been used throughout the book. I quickly turned to the section I'd written on the Gypsy MC and found photos of my colors laid out on a full page - pretty cool. The story I'd submitted was right there, below Bill's summary about our club. It made the statement I had hoped for and further established us as a "pioneer" club. Next, I looked to the end of the book for the "bibliography and literature review". It had made it into the book and will hopefully become a resource for those wanting to read more about the MC world.

As for the rest of the book, I think it turned out really well. Bill is a true professional and is "connected" in the MC community. The friends he has made and the material they contributed make this book an excellent "first edition" that begs for a second printing with expanded sections on those clubs that contain only limited information. Even though MCs generally limit information about themselves I think they'll see this book, notice that their club should be more than a footnote and reach out to Bill and Motorbooks with more information. It would be a near impossibility for full descriptions to make it into this first edition.

Here's what to expect from the One Percenter Encyclopedia - first, a very professional well thought out book from cover to cover. The photos and layout are among the best you'll see within this genre. Second, Bill's introduction and the foreword written by Devil's Disciples member, Dr. Stephen "Skinz" Kinsey. The majority of the book is a compilation of the clubs and information that Bill was able to glean from each of them. Some of the club profiles are well developed and others scream out for more in-depth descriptions. (That's what I meant by my hopes of subsequent editions with more and more information.) Bill begins the book's wrap-up with a section he calls "A Final Definition" that I'm certain he wrote for the benefit of those belonging to an MC. He hits so close to home with his comments of how life changes when you're in a club that it will focus all club members thoughts on their membership and what it means, from the loyalty and responsibility of one member to another to the undeniable fact that the patch on our back is a target that the remainder of society uses to identify us as different.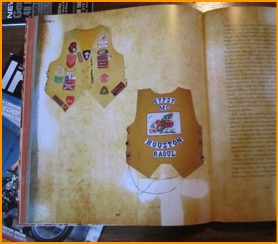 The One Percenter Encyclopedia ends with two more chapters, my bibliography and literature review and a law enforcement guide to the world of outlaw motorcycle gangs that's a real hoot. It was a serious effort, done in the mid-1970s, to provide law enforcement officers with adequate knowledge to deal with bad bikers. It's a period piece that is now horribly out of date but as much fun to read as Ed Roth's "Choppers Magazine" from the late-1960s.

My advice is to buy the book, read it and keep it on the shelf to reference clubs you may come in contact with and to share it with riders, brothers and family who may be looking for additional insights into our lifestyle. And watch for more offerings from our friend, Bill Hayes. He's bound to be planning his next project and the Gypsy MC may be fortunate enough to be invited to submit more material that describes what a great club we are!