Gypsy Holiday Wind Therapy by Wango Tango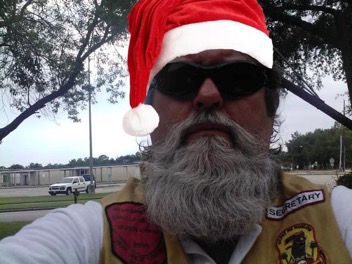 So the holiday season is here again with all its activities for Christmas, Hanuka, Kwanzaa, Mayan calendar planning, etc. This time of the year also brings about undue stress in people causing an assortment of maladies such as melancholy, depression, Mad Hatters syndrome, and football game addiction that usually result in you having low feelings of self-worth or thinking that somewhere there is a Gypsy dartboard with your picture on it.


This is totally not true…Only the Big D Chapter plays darts. Just kidding… Hey come on Gypsy brothers and sisters and really cool independent people who are enjoying this article, you are loved; always remember that you are loved. I don't care who you are: Someone somewhere loves you. Thank You Mom I promise I'll call you Sunday… Ahem… Okay if you ride you know the best thing for the blues is "Wind Therapy"… Can I hear it again brothers and sisters? Feeling blue and wanna feel brand new? "WIND THERAPY." That's right. Nothing clears the head better than a two lane back road on two wheels at cruising speed. Breathing in that fresh air, wind blowing through your hair, farm animals everywhere… BUG! BAM! Ewww… squishy… tastes like Grandma's boiled squash.


Anyways, your bike is running good,you feel good and your spirits begin to lift. Wind Therapy people… Best thing for a bad head. What's that? Can't get out for a ride? Is it the weather, work, run over by a jerk, got the flu, cold, or going berserk? Don't worry cool cats and chicks, Uncle Wango has got the home remedy cure for your Wind Therapy!

First you need a big floor fan with a long chain to change speeds with. Find a recliner or some kind of comfy chair you can use. You should have already put on your riding gear. I know you're indoors but you need to feel real. Colors, sunglasses, motorcycle boots, do rag, jewelry… OK you can leave your pants off. I want you to be comfortable. Besides, you can be practicing for the Breezy Ride this way.

Next duct tape the long fan chain to your left boot. This will be your gear shift. Low speed, low fan, high speed, high fan get it? You can use anything for handlebars. You may have some laying around. If not, a couple of lapdogs or cats will work fine if they are wind resistant. Most dogs are, and their ears can double as streamers on your handlebars. If not, air handle bars will work, plus this will strengthen your shoulders for the real riding. Ok! You're going to need some good tunes and a rocking jukebox machine to float them around the room. If you're really blue and need to shake up those chakras, I would go with "Born to Be Wild" by Steppenwolf… It's a timeless biker classic that will have you feeling tough and leathery in no time.

Time to get started! Kick that fan on with a left boot pull… Feels good don't it? Is your motor running? That's right! Jam to the tune! Make some South Park Biker's Harley sounds "Brap Brap Brap!" Hell yeah! Now pull back on that fan and kick it up to the next level while you roll that Chihuahua's head back! Rack out those Vance and Hines pipes… "Bwaaahh Une! Bwaaaahhhh Une!"

I know you're feeling better…I can see you smiling! Eat some Oreo cookies so it will look like you have Love bugs in your teeth. Now lean back in that recliner and ease off that Chihuahua's head cuz his eyes are bugging. Imagine you're riding the Sisters… The roads in Bandera! Well hey it's your ride… But concentrate! You don't want to take out the couch.

Okay now you're nearing your destination. Slow the fan, I mean your bike down… Give your pooch a little forward head roll and pet it to lessen the trauma its feeling. So here you are… Cruising through town, all the babes or (dudes for the sisters) are watching you. Let your sunglasses slide down a little and look over at them and do your best Matthew Mcconaughey impersonation "Alright alright alright." Good job, they're digging it, and you're looking good now… If you feel really confident maybe throw a Gypsy Big Jones one liner at them like "How Yeww doing?" Don't confuse this with Joey from the "Friends" TV show…It's totally different.

Let's take it to the next level and add aroma therapy and live action riding effects. Change the tune to "Riders on the Storm" by the Doors. Setup a spray mister in front of the fan and have the mister hitting you mostly in the face, so you can only see out of one eye while you spit out the side of your mouth. Keep saying to yourself: "If I just follow the tail light in front of me everything will be alright." Dump a glass of water down each boot if you want to go hardcore.

Next take a sunlamp and put it directly above your head. Change the song to "The Weight" by the Band. Imagine one of those summer rides where your butt turns to grilled cheese on the bike seat. Good times right? Just keep saying to yourself, "I may be cooking but damn I'm good looking." This will make you feel one with the Texas heat. Clint Eastwood would be proud of you.

If you want to take a sea cruise then simply make a tuna fish sandwich, take a bite, and rub some of the tuna under your nose. You'll be on the Galveston Seawall in no time. East Texas or Louisiana ride through the pines? Easy, when the significant other isn't looking, break a branch off the Christmas tree and stick it in the fan. You'll be riding the high lonesome and smelling the evergreens before you know it.

If you're single, you probably don't have a Christmas tree so you're screwed. Yipes! Did I say that? Ho ho ho Uncle Wango was just kidding… Besides you now have three extra hos to hangout with los lonely boy… Have some Eggnog and Fog, it's Party Time! You bad Whammer Jammer!

Well I hope by now that this easy to follow at home instructional motorcycle riding enthusiast scenario type article has made you forgot all your doldrums, regain confidence, feel vibrant, refreshed, and happy! Why? Because Uncle Wango wants you all to know you are loved and you rock with your socks on Brothers and Sisters! Also you really cool independent riding type people who are enjoying this article, may the force be with you as well!

So remember when it's impossible to slip away from the holiday festivities, get your knees in the breeze, with a Chihuahua or Pekingese, and put your mind at ease with some Gypsy Holiday Wind Therapy!

Good Karma, Merry Christmas, Happy Hanuka, Happy Kwanzaa, and Happy New Year to you all!

GFFG

Gypsy Wango Tango