August/31/2011
THE AIM/NCOM MOTORCYCLE E-NEWS SERVICE is brought to you by Aid to Injured Motorcyclists (A.I.M.) and the National Coalition of Motorcyclists (NCOM), and is sponsored by the Law Offices of Richard M. Lester. If you've been involved in any kind of accident, call us at 1-(800) ON-A-BIKE or visit www.ON-A-BIKE.com.

NCOM BIKER NEWSBYTES
Compiled & Edited by Bill Bish,
National Coalition of Motorcyclists (NCOM)
Thursday, August 18, 2011

PRESIDENT OBAMA SIGNS REPEAL OF KIDS' MOTORCYCLE BAN
President Barack Obama signed a bipartisan consumer safety bill on August 12 that exempts youth-sized motorcycles and all-terrain vehicles (ATVs) from the Consumer Product Safety Improvement Act (CPSIA) of 2008 that bans children's products that contain lead.

H.R. 2715, introduced by U.S. Representatives Mary Bono Mack (R-CA) and G.K. Butterfield (D-NC), passed near-unanimously in the House 421-2 on Aug. 1 and was approved by unanimous consent by the Senate later that day. The measure excludes kids' off-road vehicles from the overly-broad CPSIA lead certification rules, which previously prohibited their sale due to lead content of components such as batteries and brakes.

"This law is a win-win for American consumers and the American economy," said Congresswoman Bono Mack, "and I thank the President for signing this critically important bill into law."

Be sure to contact your federal legislators and thank them for rectifying the onerous "Lead Law" bike ban, and for supporting the rights of millions of off-road enthusiasts and future motorcyclists.

NHTSA (AGAIN) PUSHES HELMET LAWS
NHTSA Administrator David Strickland has testified once again before a Congressional committee urging federal action to get motorcyclists to wear helmets. On July 27, during a reauthorization hearing on the National Highway Traffic Safety Administration, Strickland told a subcommittee of the U.S. Senate Committee on Commerce, Science & Transportation that "the most important step we can take to reduce the deaths of motorcyclists on our roads and highways is to assure that all riders wear a DOT compliant helmet."

He further stated that, "A grant program emphasizing the use of motorcycle helmets would be effective in reducing fatalities."

Last year, in response to Congressional testimony from Strickland that increased helmet use is the core component of NHTSA's motorcycle safety plan, U.S. Rep. Jim Sensenbrenner (R-WI) introduced a resolution urging NHTSA to concentrate on motorcycle crash prevention and rider education instead of lobbying for helmet laws.

U.S. MOTORCYCLE MARKET RESEARCH
Research and Markets, a worldwide marketing research resource, has announced the addition of the "Motorcycle Dealers" report to their offering of over 718,000 global marketing research reports, which covers nearly 4,300 motorcycle-related stores in the United States with combined annual revenue of $18 billion.

According to their industry research, no major companies dominate; most companies have a single retail outlet, "The industry is highly fragmented: the 50 largest companies generate just 10 percent of industry sales," states the report.

Under the "Competitive Landscape" heading, the R&M report says: "Discretionary personal income and interest rates drive demand, since motorcycles are high-ticket purchases and often financed. The profitability of individual companies depends on volume and sales of higher-margin goods like heavyweight motorcycles. Large dealers have advantages in broad inventory selections and negotiating power with manufacturers. Small dealers can compete effectively by providing superior customer service or offering unique services, like bike customization."

The report further observes that, "Major competitors include private market sellers, other recreational vehicle dealers, service center chains, and independent service shops."

Other key topics include: Industry Overview, Business Challenges & Trends, Industry Forecast & Opportunities, and Products, Operations & Technology:

For those in the motorcycle industry or starting a motorcycle business, or interested in better understanding the two-wheel marketplace, check them out at www.researchandmarkets.com.

R&M has also conducted numerous other motorcycle-oriented marketing reports, including a Global Industry Guide and a Global Motorcycle Report, which examines market conditions across Western Europe, North America as well as key emerging countries such as China and India.

NEW REPORT REVEALS THAT 1 IN 7 DRIVERS ARE UNINSURED
Summer is the time for road trips, long motorcycle rides and making those daily back-and-forth trips to run household errands. Chances are drivers will not be involved in a vehicle accident during these travels, but everyone likely will be involved in at least one motor vehicle accident in his or her lifetime.

Across the United States, chances are roughly one in seven that a driver is uninsured, according to estimates released in April from the Insurance Research Council. The economic downturn is thought to be a major factor in the increase of uninsured motorists, with approximately 13.8% of U.S. drivers being uninsured in 2009 despite laws in most states requiring drivers to maintain minimum coverage.

In a new study, "Uninsured Motorists, 2011 edition," the IRC estimates the percentage of uninsured drivers countrywide and in individual states for 2008 and 2009 based on the number of uninsured motorist insurance claims versus the number of bodily injury claims.

In 2009, the five states with the highest uninsured driver estimates were Mississippi, 28%; New Mexico, 26%; Tennessee, 24%; Oklahoma, 24%; and Florida, 24%.

The five states with the lowest uninsured driver estimates were Massachusetts, 4.5%; Maine, 4.5%; New York, 5%; Pennsylvania, 7%; and Vermont, 7%.

The moral? Protect yourself by making sure you're fully covered, with Uninsured and Underinsured Motorist coverage included in your insurance policy!

SAFEST STATES TO RIDE
According to a statistical analysis from TheStreet.com financial website, the safest state to ride in is North Dakota, with a fatality rate nearly a third the national average, low levels of congestion and high quality road surfaces.

In an article "The Safest States for Motorcycles" in the August 1st Business Section, writer Greg Emerson points out that, "The truth is that motorcycle riding is up. Way up. Between 1996 and 2005, motorcycle registrations increased 61% while vehicle miles traveled of motorcycles grew only 8.6%, according to the Department of Transportation's Federal Highway Administration. That means a lot of new riders, riding not very far or not very often."

In an effort to "help keep all those weekend warriors looking to get on a bike and go riding from losing their heads, we looked at the most recent fatality data -- from 2009 -- to determine which states were the safest for the aspiring Evel Knievels among us. We ranked all 50 states and the District of Columbia to see which ones had the smallest proportion of motorcycle deaths as a proportion of total traffic deaths."

Half of the states fall below the national average of 15.4%, and half above. Here are the 10 states with the lowest ratio of rider fatalities:

Tenth-safest: Vermont - Motorcyclist fatalities: 68; Proportion of total vehicle deaths: 11.8%
Eighth-safest (tie): Virginia - Motorcyclist fatalities: 671; Proportion of total vehicle deaths: 11.5%
Eighth-safest (tie): Kentucky - Motorcyclist fatalities: 745; Proportion of total vehicle deaths: 11.5%
Seventh-safest: Missouri - Motorcyclist fatalities: 806; Proportion of total vehicle deaths: 10.8%
Sixth-safest: Wyoming - Motorcyclist fatalities: 129; Proportion of total vehicle deaths: 10.1%
Fifth-safest: Alabama - Motorcyclist fatalities: 776; Proportion of total vehicle deaths: 9.8%
Fourth-safest: West Virginia - Motorcyclist fatalities: 334; Proportion of total vehicle deaths: 7.5%
Third-safest: Mississippi - Motorcyclist fatalities: 632; Proportion of total vehicle deaths: 7.4%
Second-safest: Nebraska - Motorcyclist fatalities: 211; Proportion of total vehicle deaths: 7.1%
Safest: North Dakota - Motorcyclist fatalities: 135; Proportion of total vehicle deaths: 5.2%

HELMET AND ACCOUSTICS RESEARCH COULD QUIET THE RIDE
After accelerating, most of the sound that a rider can hear isn't from the bike engine or other vehicles on the road, but from the air rushing over and around their helmet. Noise levels inside a helmet can reach rock-concert levels when traveling at highway speeds, and a group of engineers and psychologists from two U.K. universities have gathered to study how to minimize helmet noise to protect riders from hearing damage and reduce the potential distraction that noise poses to riders.

Their research paper, which has been accepted for publication by The Journal of the Acoustical Society of America, says that riders experience noise from multiple sources. First is the engine noise, which is a relatively insignificant factor once riders accelerate to highway speeds. Audible wind noise can reach volumes as high as 115 decibels or more, roughly equivalent to what power saw operators without ear protection would hear. OSHA recommends limiting such exposure to 15 minutes or less per day. Turbulent air buffeting off the motorcycle windshield is another source of noise, as is air rushing around the chin bar of the helmet.

There's another type of sound experienced by riders, called body conducted sound. Aboard a motorcycle, this process transmits engine vibrations and the percussive force of the wind through the flesh and bone to the ear. Earplugs don't stop it, and it can be significant.
Another topic under investigation by the Bath group is how sound impacts attention, and one experiment measured how different volumes of sound impaired a test subject's peripheral vision.

While riders and others recognize that noise can be a serious health issue, many U.S. jurisdictions prohibit the use of earplugs or other noise-reducing devices. One long road trip could take a rider through numerous changes in local laws.

QUOTABLE QUOTE: "Useless laws weaken the necessary laws."
Charles de Montesquieu (1689-1755), French philosopher and political thinker
Read More...
August/31/2011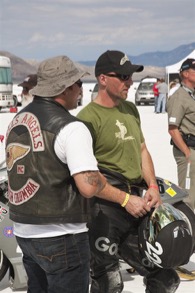 I saw this post on Keith Ball's BikerNet.com website tonight and thought it was worthwhile passing on through our Legislative Updates section. Mark Shubin is the source of the information and, to me, it's a bit scary. Somehow, the border-jockies between the United States and Canada have decided that certain members of certain clubs shouldn't be allowed to pass back and forth across the border. Read what Mark's got to say about a situation that's happening currently. I've highlighted (in red) what I think are the most critical parts of the story. -
Raoul
BONNEVILLE RACING REPORT-- On August 5th, I saw a disturbing post on Facebook from Roger Goldammer. It was concerning the fact that The United States is not
allowing Canadian members of the Hells Angels Motorcycle Club into the country. This is preventing Rogers brother Richard, from traveling to Utah for the Bub International Speed Trials at the Bonneville Salt Flats this month.
So I called Roger in B.C. to capture a more detailed picture of this restrictive situation.
Apparently this all came to light when some Club members tried to ride from Canada to Laconia N.H. to attend to World Run. Denied! Don't know why.
Now it appears that Richards annual trip to Bonneville is not going to happen because of his membership with H.A.
Clean record doesn't seem to matter, just his patches. His crime must be his love of motorcycles and wanting to ride with his Brothers.
I haven't seen additional public information yet, but I'm pretty sure some lawyers are working on clearing this up.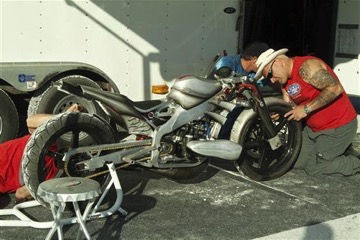 And although this may seem small time to some and has little to no effect on most of our day to day living, think of what has happened to others in the past.
The loss of freedom always begins with small steps of blanket decisions and judgments . Then the list continues to expand as the government feels the need to manage everyone's liberty for their own good.
At this stage this may or may not be the start of something bigger, point being, stay vigilant! And much respect to Richard and Roger, they are both "Stand Up" guy's in my book! Hope this cleared up fast!
And lets not forget about the ATF and DOJ these days!
--Mark Shubin
Utah
Read More...
August/19/2011

Great opportunity for your legislators to get to know you

Each August, the U.S. Congress takes a recess from Capitol Hill and focuses their time in the district they represent. They attend local events, host town hall discussions, and meet with constituents -- you!

The American Motorcyclist Association (
AMA
) urges riders to utilize the upcoming August recess as an opportunity to meet their legislator and have them get to know you and the riding community.

This August is an excellent time to get to know your lawmakers. Please take advantage of this opportunity to meet with your legislators, discuss issues important to you, and offer yourself as a resource for motorcyclist-related issues.

Opportunities to meet with your legislator during August recess:
- Attend a town hall meeting
- Schedule a meeting in the district office
- Invite your legislator to attend an event
- Attend a public event your legislator will be at

The AMA will alert you when your federal lawmakers schedule a public meeting. You may also contact your lawmaker's local office or visit their website to inquire about their public August schedule. To look up your lawmakers' contact information, visit the AMA
Issues & Legislation
page and enter your zip code in the "Find Your Officials" box.

For details on how to prepare for a town hall meeting, schedule a meeting with your elected officials, and more, visit the AMA
Get Involved
webpage and select "Communicate with Elected Officials."

To find information on motorcyclist-related issues visit the AMA
Issues & Legislation
page. Federal issues will be displayed on the main page. To view state specific issues, select your state in the "Search by State" drop down menu.

Lawmakers are elected by you and work for you. They care about your concerns -- the concerns of their constituents. Take advantage of this recess to meet your lawmakers, face to face, and allow them the opportunity to get to know you, the riding community, and motorcyclist-related issues. Encourage your fellow riders to join you in your efforts.

If you speak with your legislators this August, the AMA would like to hear your story. Please take a moment to tell us about your experience
here
, or contact the
Grassroots Team
.

Thank you for getting involved.
Read More...