September/23/2012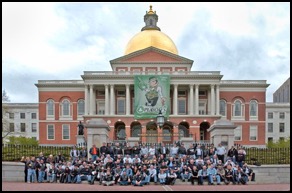 The AIM/NCOM Motorcycle E-News Service is brought to you by Aid to Injured Motorcyclists & the National Coalition of Motorcyclists, & is sponsored by the Law Offices of Richard M. Lester. If you've been involved in any kind of accident, call us at 1-(800) ON-A-BIKE or visit
http://www.on-a-bike.com/
.

NCOM Biker Newsbytes: Compiled & Edited by Bill Bish…


Federal Highway Safety Grants in Jeopardy:
Despite a spike in traffic fatalities, states could lose as much as $120 million in highway safety grants if Congress doesn't change a planned bill to fund the government's operations for six months. Congress passed a new highway bill this year that streamlines the federal grant process that provides state funds for alcohol-impaired and distracted driving prevention, increased occupant protection, motorcycle safety, teen driving safety and data collection. Under the typical rules for a continuing resolution, new programs such as those authorized under the highway bill cannot be funded. The National Highway Traffic Safety Administration recently reported that its estimate of all traffic deaths for the first quarter of 2012 show a 13.5% increase to the highest number since 2008. The substantial increase is the second-largest quarterly jump in traffic deaths since NHTSA began tracking deaths on a quarterly basis in 1975 -- and the biggest since 1979. NHTSA reported the rate of traffic deaths per 100 million miles of vehicle travel increased significantly to 1.1 fatalities per 100 million miles traveled during the first three months, up from 0.98 in the same period last year, with 7,630 fatalities compared to 6,720 in the first quarter of 2011. The increase would end a steady decline in U.S. road deaths over the last seven years, falling last year to their lowest number since 1949.


Read More...